Monday marks the Five Year Anniversary of Lisa Ruttenberg Stebic's disappearance.
Lisa's parents wrote the following statement to mark this sad anniversary day:
"April 30th 2012
On This The 5th Year
Today As We Honor & Remember Our Lisa …
Know that we all hold Lisa so close to us in our minds & in our hearts …
Know that we are a Family who gains strength & support from each other. Know that no matter what … All of The Yesterdays, Today, and All of The Tomorrows will be those filled with Unconditional Love.
Know that Lisa's Energy & Lessons have Helped to Inspire Us!
The Love that we each have for Her & missing Her every moment of each and every day has Profoundly Changed Us Forever!
Lisa is So Cherished and as we Celebrate Everything About Her that was
So Unique & Wonderful … So, too, do we acknowledge Her Courage,
Her Laugh with Her crinkled up nose, Her Great Hugs and The Pure Compassion Lisa had for Others … Especially For Her Children Lexi and Zac!
The emptiness will never be filled…
The broken bonds will never be healed…
Today, as we honor and remember our Lisa, we recall the positive influence she had. We know that shared times with her family was of the upmost importance to her.
Lisa's life was brutally ended yet her outstanding attitude & energy is what we must hold on to as the most important lesson to be learned here…to enjoy each & every day to the fullest…to be totally focused and dedicated in spite of unimaginable pain, anguish & challenges that come our way.
Lisa's vibrance, kindness, caring ways along with her beautiful personality and true essence was simply remarkable. She lived her life by demonstrating hope & continued to move forward in spite of horrific circumstances. She lived by her own special truths.
Each of Us Have Our Own Very Special Memories We Shared With Lisa.
Today, we celebrate you Lisa.
You are our radiant light of love.
Shalom to you our cherished daughter.
Without you Lisa…the light in our lives has forever diminished but we will never give up on finding you and bringing you home!
MOM  AND  DAD"
********************
Lisa's older sister, Debbie Ruttenberg, has a written statement to mark this 5-year anniversary:
"Five years. Lisa's body hasn't been found…yet. We haven't received due justice…yet. We haven't even been able to hold a funeral!
It never gets any better- it's actually worse than any movie or program. Every moment Lisa is missed. Sleep brings nightmares and daily life remains empty. Possibly the worse addition is that Lisa's children aren't able to be in our lives and we aren't able to be in theirs. How does one totally remove a mother and her family from his own children?
To attempt a life that is worthy, I can only hold Lisa's memory in the most beautiful light. A light that shines glorious colors and has a unique brightness throughout everyone she touched in her shortened life. This comes from her pure joy and positive energy that radiates within us. Especially within Lisa's children, Lexi and Zac.
Our family will always be devastated by our loss, but we remain hopeful for justice."
________________________
Lisa Stebic was featured on Nancy Grace in March 2011:
A Special Video Tribute to Lisa Made by her Sisters for her 41st Birthday

________________________
Major Crimes Task Force Takes on Lisa's Case
On April 30th, Lisa's family held a joint press conference with the new chief of the Plainfield Police, WIlliam Doster, Chief Fred Hayes of Joliet and States Attorney James Glasgow to announce that the Will/Grundy County Major Crimes Task Force will join the investigation into Lisa's disappearance.  Chief Fred Hayes is the Chairman of the new Task Force, and both he and Jim Glasgow characterized it as a homicide investigation.
Read more here!
________________________
Please see "RECENT POSTS" for Volunteer updates and announcements.
________________________
America's Most Wanted
Featured Lisa Stebic
America's Most Wanted aired a segment called
"Making Noise"
about the media campaign that Lisa's family waged
to bring Lisa's disappearance to the public's attention
If you missed it, watch it above.
If you are a family who has a loved one go missing -
click on the America's Most Wanted picture (above)
This will bring you to their step-by-step brochure of things you can immediately do!
________________________
Car Magnets Available

Bumper sticker sized Car Magnets now available for $10 (which covers manufacturing cost and shipping). Please email findlisastebic@gmail.com if you are interested in purchasing a non-profit magnet.
________________________
(Courtesy: Michael R. Schmidt/Joliet Herald Staff Photographer)
Photos from Lisa's Walk, our fundraiser event to honor Lisa on the one year anniversary of her disappearance!
"800" Tip Hotline for those out-of-state !
Will County Crime Stoppers at
800-323-6734
or
____________________________

_______________________
________________________
Our Lisa Michelle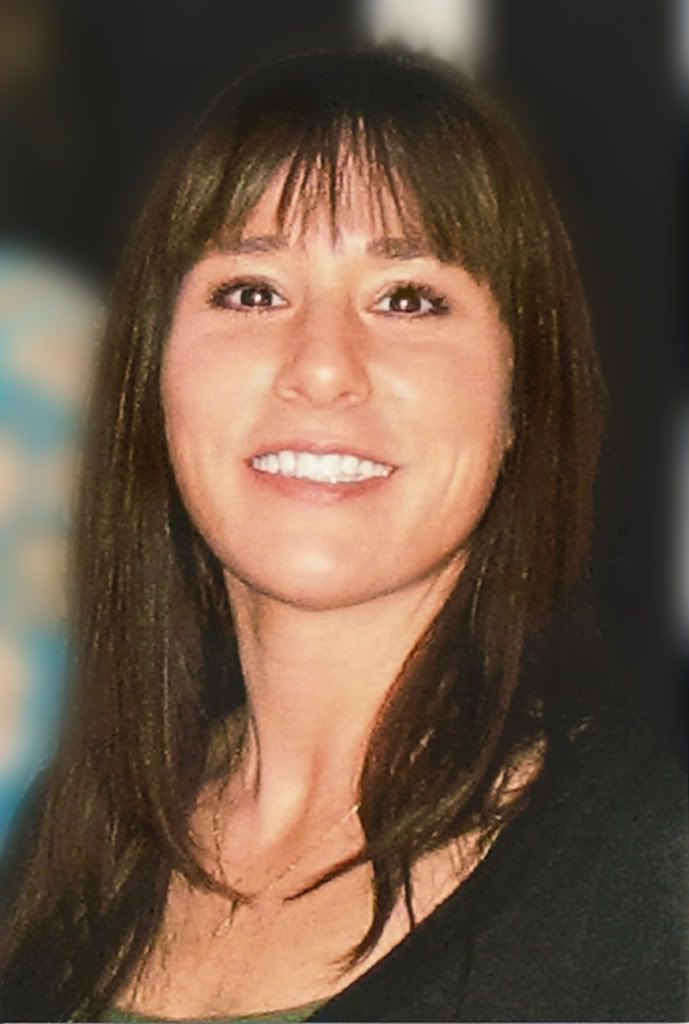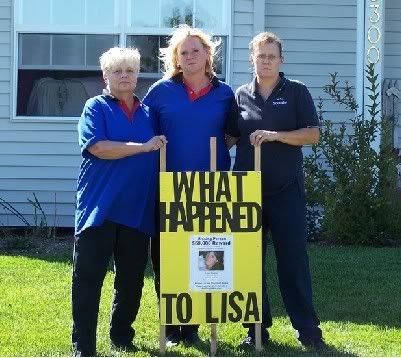 Please help us find her!!!
Tip Hotline: 815-267-7217
________________________
Lisa Stebic has been missing since Monday, April 30th. She was last seen at her home (in Plainfield, Illinois) at around 6 pm. Her car is still in her garage and she has her cell phone and wallet with her.
According to police, her cell phone has not been used since April 30th and neither has her credit card. Lisa would never leave her children.
Lisa, 37, is 5′ 2″ tall, 120 pounds, with brown hair and brown eyes. She has two visible tattoos, a small rose on her ankle and a large butterfly on her lower back.
If you have a tip - please contact the Plainfield Police Dep't, the FBI, America's Most Wanted or our gmail account:
__________________________________________________
Thank you to-
EVERYONE from AROUND THE WORLD WHO SENT US PICTURES OF THEMSELVES OR FAMILY - Holding up Lisa's Flyer or Website Address Name…to let Lisa's Family know that the World is, indeed, a small village occupied by loving and caring people - who are worried for Lisa and her two children.
We hope to expand this currently-running "Where is Lisa Stebic" video…with even MORE pictures from around the Country…and around the World!
If YOU are interested in joining this expanding grass-roots World Internet Community effort to get the word OUT of Lisa's disappearance…please send your photo or short video clip to projectwhereisLisa@gmail.com.
Contact us at findlisastebic@gmail.com.
Posted by Kara |