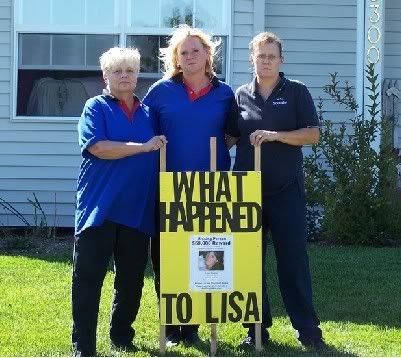 Lisa's friends and co-workers
Betty Stubner, Ruby Zegar and Kim Young
No truer friends have there ever been!  
  ___________________________________________________ 
Connection to tragedy
motivates woman
By Paige Winfield Staff Writer.   June 8, 2007 - Naperville Sun
Sister of murder victim feels
need to help Stebic family
When she heard about the disappearance of Lisa Stebic, Suzanna Ibarra identified with the missing Plainfield mother's family in a way few others can.
Ibarra is only 3½ years removed from her own family's tragedy. In January 2004, her sister-in-law was stabbed to death in her Plainfield hair salon by a boyfriend.
As soon as Ibarra heard Stebic was missing, the Joliet resident called the Plainfield Police Department to find out what she could do to help.
Read the full article in the Naperville Sun
Posted by Amy |