Photos courtesy of community member, Cheryl Steele
An Open Letter: To the Community of Plainfield, IL, it's incredibly big-hearted residents, and all those who drove a LONG way to honor Lisa Stebic on her 38th Birthday…from Lisa's Family:
"Words cannot come close to expressing the gratitude, amazement and love we now feel for ALL those who came and volunteered, on Lisa's behalf -setting up, inflating balloons, handing out "Find Lisa" magnets, staffing Lisa's festival booth, preparing for and then attending Lisa's sunset Candlelight Birthday Vigil, bringing cake, handing out the candles & balloons…(the list goes on and on..but every single effort deserves to be mentioned - because each effort was infused with love and concern).

We want to thank each and every one of you…and all those who sent Lisa their prayers and good wishes - from all around the World, on this - her special birthday weekend!"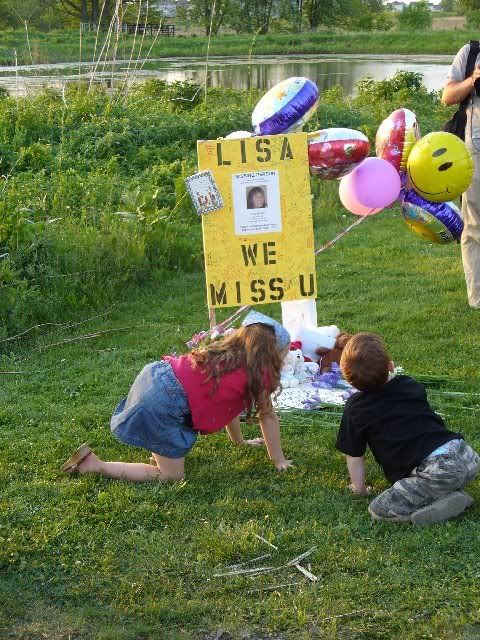 -A Recap: Saturday Afternoon-
A community volunteer staffed table at Plainfield, IL's "SpringFest" Main Street Festival handed out Free Balloons, candy, kids meal coupons AND "Find Lisa" magnets to all who came.  Those visitors, who departed the fair full of an afternoon's worth of laughter and fun (just like Lisa always loves to be), left carrying the magnets…taking them to far-off destinations where someone may recognize her, and lead her back home to her children & Family.
The specially-produced magnets have, affixed to them, a small picture of Lisa…along with the Plainfield, IL Police Department's Special Tip Hotline & the www.FindLisaStebic.com website address…and were graciously donated by Dawn Janz, with the assistance of Kinkos/Arlington Heights, Illinois, and Jamie McSorley and Nadine Vaughan of Scottsdale, Az.
Our "Find Lisa" Booth was very beautiful…and made possible by Lisa's co-workers & neighbors…and a generous donation made by the Plainfield Illinois Chamber of Commerce.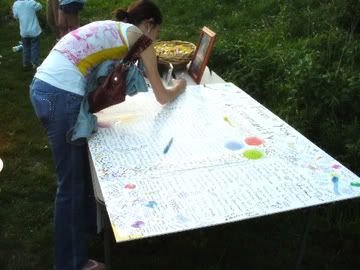 The splendid Jumbo Birthday Card (signed by everyone who attended "Springfest" and was brought to the evening Candlelight Birthday Vigil - displayed to the Attendees, Lisa's Family, the Media and the World) showed that ALL of Plainfield, IL CARES about their "missing mother-of-2″ - and wants to FIND HER!!!
There were literally hundreds of signatures on her card…thanks to Tammi Watson and Kimberly Young (Lisa's supervisor at Sodexho/Lincoln Elementary).
-Saturday Evening-
Lisa's Candlelight Birthday Vigil was a sweet and tender event…very powerful, very moving…
Volunteers prepared 400 Balloons…many were Lisa's favorite color, purple…and handed them out to all who were at the gathering at the request of Lisa's Family.
On the count of 3-2-1…hundreds of Balloons were released, simultaneously - to drift up into the sunset-laden skies above Lisa's Plainfield, IL home.
If was a magnificent sight…for a magnificent evening! (Watching the "Balloon Release" at sunset…the lighting of the candles as it grew dark…the prayers read…the music played…made it all just perfect.)
And your kindness, industriousness and generosity made this POSSIBLE, our dear volunteers!
Thank you, too, to ALL THOSE PEOPLE AROUND THE WORLD WHO SENT US PICTURES OF THEMSELVES OR FAMILY - Holding up Lisa's Flyer or Website Address Name…to let Lisa's Family know that the World is, indeed, a small village occupied by loving and caring people - who are worried for Lisa and her two children.
We hope to expand this currently-running "Where is Lisa Stebic" video…with even MORE pictures from around the Country…and around the World!  If YOU are interested in joining this expanding grass-roots World Internet Community effort to get the word OUT of Lisa's disappearance…please send your photo or short video clip to projectwhereisLisa@gmail.com
We hope to see you soon!
With much Love and Gratitude,
The Family of Lisa Stebic
Please support these restaurants, food shops and printing services (below)…and thank them for their enthusiastic support in making these important FindLisaStebic.com events possible:
Jimmy John's Sub Shop
Applebee's Restaurant
Chili's Restaurant
Baci's Restaurant
Mojo's Bar and Grill
Rosati's Pizza in Romeo
Kinkos
Jewel
Dunkin' Donuts
Starbucks
Posted by Amy |